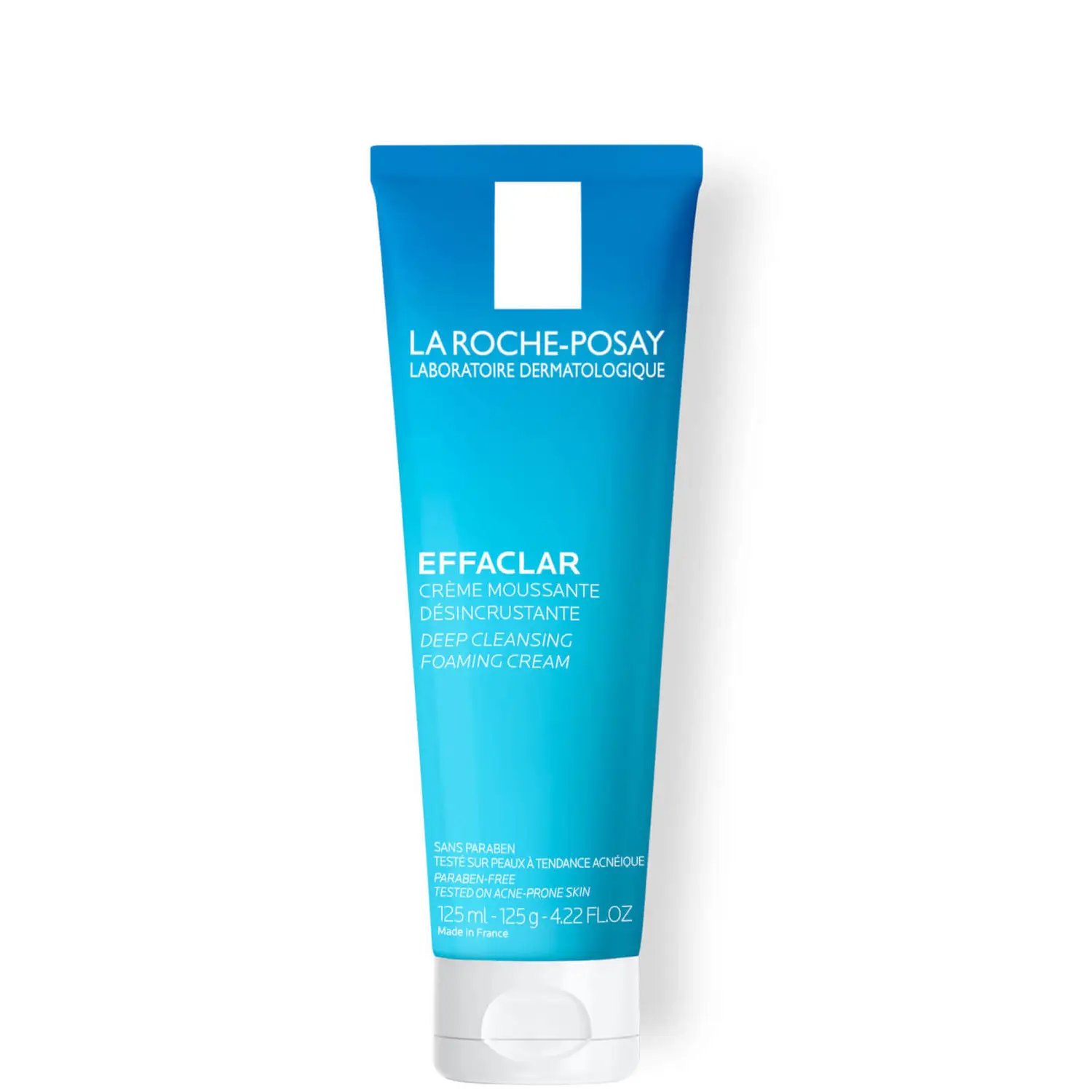 La Roche Posay Effaclar Cream Cleanser for Oily Skin
Deeply cleanse your skin with Effaclar Deep Cleansing Foaming Cream. This Effaclar face cleanser foams into a rich cream texture to thoroughly cleanse and purify oily skin. Remove excess oil without overdrying the skin. This oil-free formula leaves the skin soft, supple and visibly clean. Considered one of the best cleansers for oily skin and large pores.
The La Roche-Posay Effaclar Deep Cleansing Foaming Cream Face Cleanser for oily skin thoroughly cleanses skin. Non-comedogenic, gentle enough for everyday use, and soft cream to foam texture.
La Roche-Posay is a dermatological brand, recommended by 25,000 dermatologists worldwide. It was created by a pharmacist in 1975 and at the heart of the brand is a unique spring water from the small village of La Roche Posay, located in central France. The thermal spring water is naturally soothing and rich in anti-oxidant Selenium. All products are developed with dermatologists and tested on sensitive skin.
La Roche-Posay Effaclar Deep Cleansing Foaming Cream is specifically designed to bring the power of thermal spring water right to your bathroom sink, so you can have healthy-looking skin whenever you wash it. An extra gentle cleansing formula containing newly patented Thermal Spring Water visibly purifies skin, dissolving excess sebum and impurities, while restoring its natural protective barrier. This lightweight, non-greasy face wash is clinically proven to help prevent the formation of new blackheads and whiteheads for clearer skin.
La Roche-Posay Effaclar is a rich lathering cleansing that purges the skin of debris and blockages that clog and enlarge pores. This creamy cleanser softens thick skin and helps control oil production, leaving you with cleaner, clearer skin. Daily use helps tighten and refine pores, leading to fewer blackheads and pimples.
Oil-free, paraben-free, non-comedogenic: Tested on acne-prone skin
La Roche-Posay's Effaclar line targets acne at its source by combining dermatological active ingredients and soothing thermal spring water
Ideal for oily skin with large pores
Use as a daily cleanser or as part of your daily facial routine.
Ingredients:
Water, Glycerin, Myristic Acid, Potassium hydroxide, Glyceryl Stearate se, Stearic Acid, Lauric Acid, Palmitic Acid, Coco-Glucoside, Tetrasodium EDTA, Parfum, Salicylic Acid.